Complete, Powerful, and Easy to Use
DoctorsEMR Practice Management Software is HIPAA compliant, ICD-10 ready, and cloud-based, providing you secure, everywhere access to your practice.
It's one-of-a-kind software that lets you:
• Book all patient appointments online
• Speed up the check-in process by automatically inserting patient demographics on driver's licenses and insurance cards into the patient record
• Call or send reminder texts to patients to confirm appointments
• Allow patients to fill out their history and demographics online, according to your predetermined parameters
• Check patient insurance eligibility (co-pays, deductible amounts, and co-insurance)
• Scan/archive all paper documents (unlimited document upload)
• e-faxing capability automatically eliminates the need to scan/archive/organize faxes sent to your system, letting you annotate the fax and attach it to patient records
"DoctorsEMR Practice Management System is not just a billing software. It is a complete, web-based enterprise practice management solution that streamlines clinical, administrative, and financial operations of care delivery organizations, providing unprecedented opportunities for productivity, collaboration, and growth. Whether your goal is to enhance the value of services to your patients, increase reimbursements, improve the overall efficiency of day-to-day operations, or simply stay ahead of compliance requirements, DoctorsEMR Practice Management empowers your practice to thrive in today's highly competitive practice of medicin
Number 1 in  KLAS has ranked DoctorsEMR EHR and Practice Management as the best ambulatory software for 1-10 Physician Practices.
DoctorsEMR also ranks highest among competitors for:
• Transparency in Business Processes 
• Implementation & Training
• Service & Support
• Functionality & Usability
See why DoctorsEMR is Better?
Empower Everyone in Your Practice
Running an office is not easy. Your staff wears multiple hats, tackling a number of issues, including administrative, legal, financial, or even technological — and often all of these in the same day. The workload is often more than any one person can handle. And if someone decides to call it a day, which is more common nowadays thanks to the regulatory environment, the results can be disastrous for your practice. That's where DoctorsEMR Medical Practice Management steps in. We take on your most tedious practice management work: automate processes, eliminate communication barriers, and reduce staff workload—enhancing your practice productivity manifold.
Benefits
Integrated with our award-winning EHR and patient portal, this solution connects front and back end operations seamlessly, removing communication barriers and streamlining the flow of information for better practice management.
Practices that have used DoctorsEMR Practice Management report:
• Time saving
• Increased staff performance and satisfaction
• No reimbursement delays
• Less claim rejections
• Efficient patient collection process
• Improved service quality
• Increased patient satisfaction
Get Award-Winning DoctorsEMR EHR and Practice Management free with our billing Service. Learn More
Manage your daily tasks through our personalized dashboard. Customized according to your preferences, this dashboard provides on-going visibility into every aspect of your practice.
• Easily review your tasks or assign them to other users in the practice
• Monitor your practice key performance indices against industry averages and your past performance
• Easily manage all incoming faxes, orders, and results in one place
• Monitor Meaningful Use progress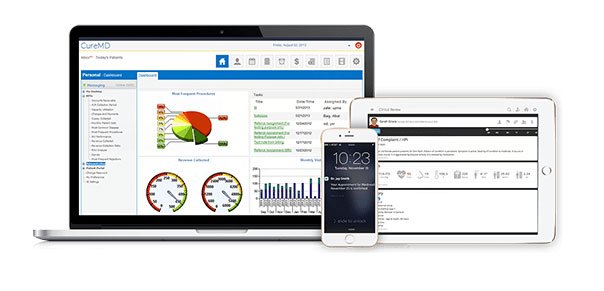 scheduling

Schedule and manage appointments and resources across different providers, locations, and days on a single clutter-free screen.

Messaging

Worried about valuable Patient Health Information getting into the wrong hands? Our E-messaging module allows you to securely send and receive messages to other users, practices, and patients. 

Intelligent Billing

Intelligent billing Provides innovative functionalities for automatic charge capture, clean claim checks, electronic claim submission, electronic payment posting, denial management, and financial reporting to help reduce errors and maximize revenue.

Point of Sale

Integrated credit card processing allows physicians to electronically accept payment from self-pay patients. You can also easily create a patient payment plan in the system.

Document Management

Capture, scan, and attach paper charts, clinical images, photographs, x-rays, audio files, and medical drawings directly into the electronic chart or through integrated PACS system for complete, accurate, and up-to-date information availability.

Collections

Studies indicate practices lose 1/3 of their revenue to patient collections. DoctorsEMR Practice Management ensures you are not one of them.

The scheduler clearly indicates whether copay has or has not been collected for a patient.

The check-in screen displays the most up-to-date patient balances, helping practices collect at the time of check-in or check-out.

Send automatic email or text reminders to patients to clear their patient balance.